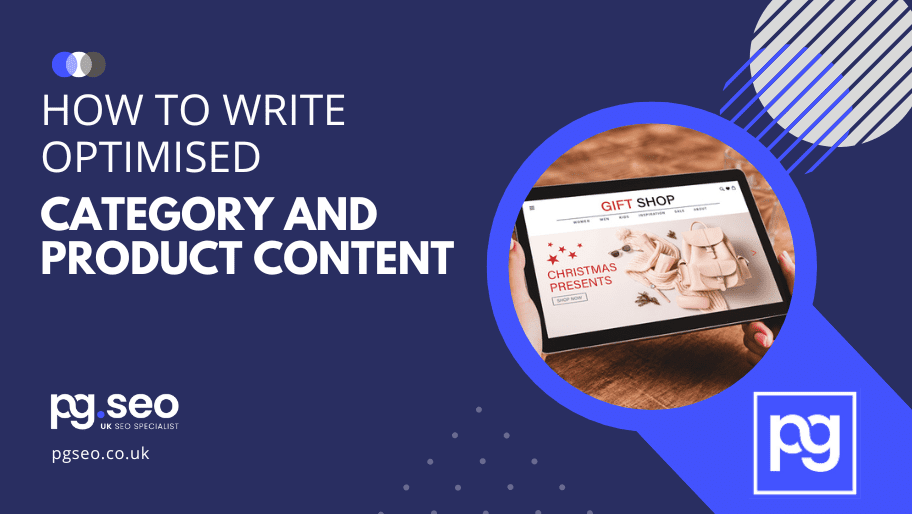 In this post I will guide you writing content for your product and category pages as this is often an overlooked part of building an eCommerce website. But when done correctly, properly optimised content can help to drive more traffic to your site, increase brand awareness, increase trust and this will all translate to an increase in sales.
Many companies over-think their eCommerce content to the point where it becomes nonsense. While others will neglect this portion of their website build so much that they end up missing out on key opportunities.
Striking a balance between writing for people and writing for search engines is key to success. And the thing to remember is that search engines simply want you to generate a good user experience, which typically means prioritising high quality content.
So, before you start thinking about keyword stuffing in your product descriptions and category pages, consider the following advice for optimising your eCommerce website content for SEO.
Why do we optimise eCommerce content?
Before we get into the "how" of website content optimisation, we need to understand the "why". The written content on your website is essential to helping search engines know exactly what you are selling. Meta data, product descriptions, image alt text and schema markup will all help to provide signposts to search engines that help them to understand your content.
Search engines can only work with what we give them, so spending a little bit of time making sure that the product descriptions on your website are informative can help your SEO rankings significantly. You don't need to have excessive amounts of SEO-optimised content on your category pages, and this was confirmed by Google's John Mueller in 2020. However, some well-written content that helps to provide additional context to the reader will certainly help.
Your eCommerce website content is not only for search engines. It also helps to shape the customer journey. Through accurate and descriptive content, you can help customers to decide which product is right for them. Think about how many times you have been put off a purchase because you can't find the information you are looking for.
Your product and category pages should be written in your company tone of voice, with your brand values woven into the thread of the story. They should also help to encourage users through the purchase journey, providing all of the information they need to make an informed decision.
How to carry out keyword research for eCommerce
The first hurdle that many eCommerce websites seem to stumble on is the keyword research. You might think you know what your customers are searching for, but keyword research might tell you otherwise. With good keyword research, you'll find new ways to approach your product categories and pages that will help you to avoid feeling repetitive.
The importance of search intent
Understanding keyword search intent is essential for eCommerce websites. Intent refers to the intention of the user when they search for the term. These can be categorised in different ways, including informational, navigational, transactional and commercial. Commercial and transactional will be the most relevant in this instance.
Commercial intent is sometimes referred to as commercial investigation. This could include comparisons, or a search for the "best". An example of this would be "best iPhone 2023", or "best rated air fryer". In these search terms, the user might be looking for a review or comparison, which means they are close to making a purchase. This type of content might be best suited for a blog or category page.
Transnational search intent is when a user is ready to make a purchase, but they are choosing where to make that purchase. For example, this could include phrases like "IKEA billy bookcase." The user knows exactly what they want, they simply need to narrow down where they will purchase it from. These types of search terms are ideal for specific product pages.
Transactional searches often include words like "buy", "deal", "discount" or specific product names. Commercial searches often include words like "best", "review", or "compare".
It's worth noting that informational search terms can also quickly turn into commercial opportunities. A user might be looking for information on how to do something, and then be prompted to make a purchase if you sell the component they need to achieve their goals.
An example of this would be "how to fix a steam mop". If the solution for this is to replace the filter, this could quickly turn into a transaction if you happen to sell steam mop filters. This is often why it is beneficial for eCommerce websites to have a blog function that allows them to address these informational keywords.
Keyword targeting and cannibalisation
Once your website is up and running, you might find that multiple pages are competing for the same terms. This is known as keyword cannibalisation. In general, this should be avoided, as you can damage your own rankings when you are competing with yourself.
The best way to avoid this is with extensive keyword mapping and having a clear plan for how you will target keywords across your site. You also need to monitor your keywords and determine if you are using the correct keywords on the correct pages. If you have a better option available, you should aim to optimise the correct page for the keyword while de-optimising the page that is currently ranking higher.
While there are no guarantees in SEO, and the wrong page may continue to be shown, being aware of these issues can allow you to make informed decisions about your future SEO efforts.
When it comes to keyword targeting, you will want to make sure you are optimising your product and category pages for the right terms. For example, a product page might be optimised for the term "Marc Jacobs Snapshot Bag", while your category page is optimised for "women's crossbody handbags". You could also include a second category page which targets "Marc Jacobs handbags".
This is why the hierarchy of your website and how you segment your products and categories is so important to get right. Keyword research and website structure will often go hand in hand.
Meta titles and descriptions
Once you know the keywords you will be targeting, you can then think about your meta title and description format. For large eCommerce websites, it's helpful to use a specific format to avoid the need to write something unique for each page.
A great way to do this is to instruct your SEO plugin to pull the H1 tag and website name for the meta title and then create a format for your meta description that includes your website USPs. For product category pages, the meta title will be driven by your target keywords, which should also be present in the H1 and H2 tags on the page.
Writing better category pages
Now we know what keywords we are targeting, we can start to think about how to structure and write category pages. These pages are essential for SEO, so you want to make sure you know exactly what keywords you will be targeting for each category. At this stage, you might start to think about restructuring your website to be able to target all of the relevant keywords.
Product category page copywriting is often an afterthought. But when used correctly, it can help to increase organic traffic, signpost the user journey and help customers to find exactly what they are looking for. And if they happen to be in the wrong place, you can point them in the direction of something more relevant.
How long a category page should be is often up for debate. Some companies include extensive information in an effort to include the keywords as many times as possible. Others take a minimalist approach with just a few lines, but miss out on key opportunities.
To strike a balance, you need to ensure you're only making the category description as long as it needs to be to communicate your message, while also ensuring that it is functional and written with the end user in mind. Consider the following tips when writing your category pages:
Highlight your best selling products and offer variations that your customers may not have thought of.

Link to related categories to help enhance the user journey and help customers find what they are looking for.

Allow your brand voice and values to shine through in your category pages. Your customers are buying into the whole brand, so help make it clear why they should shop with you.

Highlight the USPs of your online store. For example, you might offer extensive customer service, fast and free shipping, price matching or payment plans.

Give users options for their next steps. Perhaps they can explore other categories, learn more about products on your blog, or contact your support team for more information.
Avoiding keyword stuffing
Yes, the purpose of the product category page is to get noticed by search engines, but there are better ways to do this than by keyword stuffing. You can include the keywords naturally and still ensure that you are signposting the content for search engines.
Above all else, you should think about the end user and how they will interact with the content. Google also values good user experience, so if you are only creating content "for SEO", you might want to reconsider your approach.
Keyword stuffing is outdated and not effective, so there's really no reason to continue with this approach. It also doesn't help the user to achieve their goals, so it's better to focus on producing helpful content.
The power of internal links
On the subject of user experience, internal links should also feature in your category pages. Internal linking is great for SEO and incredible for user experience. Your internal linking strategy should be treated as a form of customer service.
Imagine you work in a bricks and mortar camping shop. A customer walks in and asks about tents. You might tell them about the brands that you stock, your best-selling tent, and then a few options at different price points. Your product category page should perform the same function on your website.
By linking to brand category pages, related category pages and support pages such as your shipping policy, you can give visitors the same support they would get if they were to walk into a physical shop and ask for help.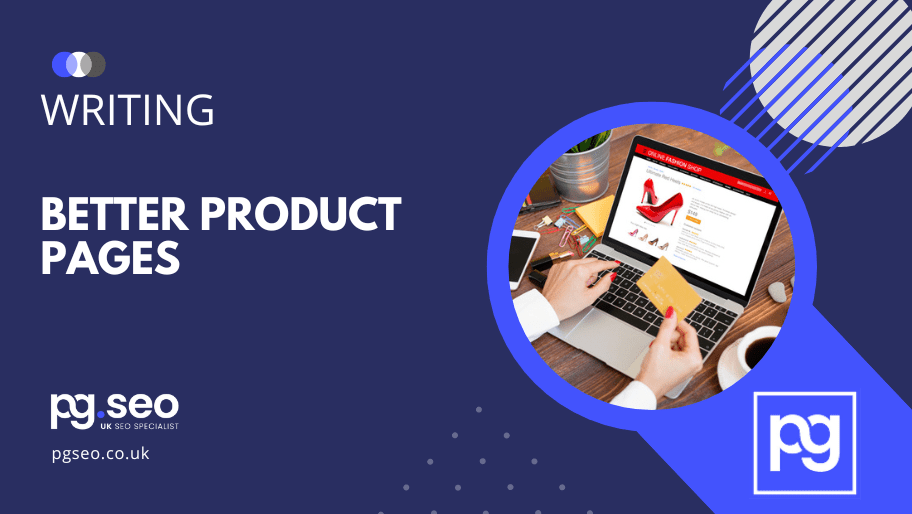 Writing better product pages
Product descriptions are essential for customers to be able to make an informed choice about which product to buy. It might feel repetitive to keep talking about the same features for the different variations of your products, but getting this right can set you apart from the competition. Your product descriptions should include:
Information about the dimensions and weight of the product

Specific uses and compatibility with other products

The USPs of the product and why it is unique/superior
The importance of unique content
It's not uncommon for eCommerce sites to borrow content from the original manufacturer, as this is a quick and easy way to get products online without too much effort. However, this will lead to a large volume of duplicate content on your website.
Duplicate content is an issue when you are trying to compete with the original manufacturer and countless other websites selling the same product. When Google encounters duplicate content, it will prioritise the website with the greatest authority, and this will typically be the original manufacturer. Imagine you sell running shoes and you publish the same product description for a pair of Nike trainers. It's difficult to imagine how you would rank above Nike's own website if you publish identical content. However, if you have unique content and can offer a cheaper price, you may be able to outrank Nike for more niche search terms. But this will only happen if you have unique content.
While it might be a timely and potentially expensive task to create unique content for every product on your website, you will be rewarded with improved rankings and a better user experience. You may decide to use AI. You can also use your product descriptions to improve brand recognition by ensuring your brand voice is carried through the content.
E-A-T content
Another key consideration when creating product page content is the importance of the E-A-T update from Google. E-A-T stands for expertise, authority and trust. This is particularly important for websites that fall into the "Your Money, Your Life" category. YMYL websites include those that are offering health or financial information and advice.
All eCommerce websites will fall into this category as they are trying to convince individuals to part with their hard-earned money. This is why it is so important to
The content on your website – and particularly on your product pages – needs to demonstrate good product knowledge in order to stand out. This will help to guide the user journey while also strengthening your brand.
Identifying your USPs
An excellent way to make your content unique is to identify your USPs, not only for your products but for your website. Bullet point lists are a popular way to quickly communicate to website visitors the key selling points of the product. This makes it easier to skim product information on a desktop or mobile device.
USPs could include things such as:
How the product was made

Where it was made

The materials used

Sustainability features
Your product description can then follow a set format. Most website owners will include a short description summing up the major features of the product. They will then include a bullet proof list of key features. And then finish this with a longer description that contains more information.
At the end of the longer description, you can also mention the main features about your company that would make customers more likely to want to shop with you. For example, you might offer free shipping, next day delivery or easy returns. These are all things that will help to turn a browser into a customer.
Bringing it all together
Ultimately, you want all of the content to sit under the umbrella of your brand with a clear brand voice. No matter which page a website visitor lands on, they should enjoy a cohesive brand experience. This is best achieved with a strong brand voice and a clear idea about what you offer than what your competitors don't.
The website should offer a clear and easy to follow user journey that takes them from discovery to purchase with ease. They should be able to find all of the information they need within a few clicks. To achieve this, it's a good idea to use breadcrumb navigation to ensure users can easily click back to category pages and understand where they are on the website.
It's also a good idea to make your website footer work harder by ensuring it includes links to all relevant shopping information, including shipping, returns and FAQ pages. Contact information should also be readily available to help build trust.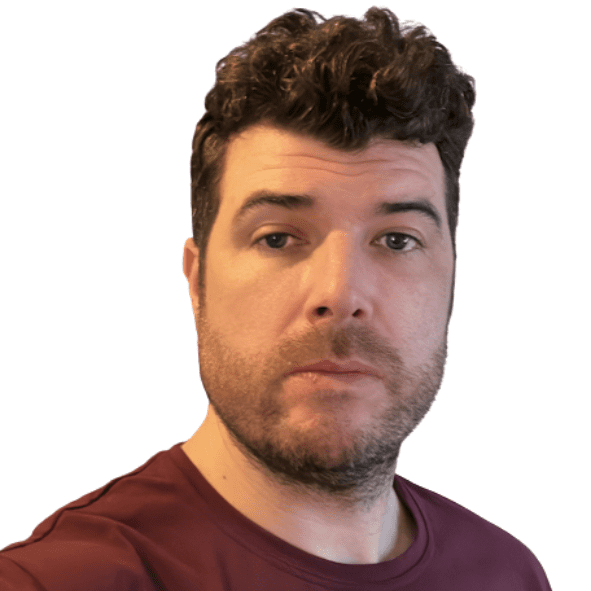 I'm Paul Gordon an SEO freelancer who has spent the last 16 years helping businesses expand and grow through effective SEO strategies.